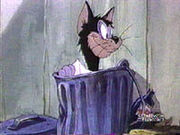 Butch Isacc Cat (or Alley Cat for short) is a Tom and Jerry character, he is a black and white alley cat that's being a beneficial or harmful living thing to the one and only Tom Cat.
Appearance
Edit
He is a black cat.
Personality
Edit
He is a Casanova.
Appearences
Edit
Butch appears in Tom and Jerry.
He reappears in Tom and Jerry Works, with voice Maurice LaMarche providing his voice. A gag at the end of the intro sequence involves him trying to shield the show's logo with a sign reading "Starring Butch," only for a flaw to happen which removes the sign and, occasionally, harm Butch. He also reappears in Tom and Jerry: Pokemon Show where voiced by Eric Bauza and where he work refetee in cente Pokemon with cats friends Topsy, Lightning and Meathead.