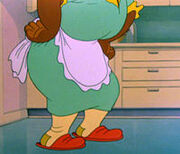 Mammy Two Shoes (also known as Mammy, Mammy Two-Shoes or Mrs. Two Shoes in Tom and Jerry Tales) is a recurring character in MGM's Tom and Jerry cartoons. She is a heavy-set, wealthy, middle-aged black woman who often has to deal with the mayhem generated by the lead characters. In "Power Tom", she disguises herself as Power Gal.
Appearance
Edit
She is a black woman.
In "Power Gal", she wears a Power Gal uniform.
Personality
Edit
Mammy Two Shoes appears in Tom and Jerry.
Also, she appears as a main villain of Tom and Jerry X Series.