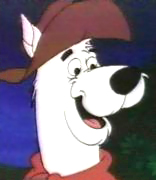 Yabba-Doo is Scooby-Doo's brother and is owned by Deputy Dusty in Tumbleweed County. Unlike Scooby's and Scrappy-Doo, his typical custom catch-phrase is, "Yippity-Yabbity-Doo".
Physical appearance
Edit
Yabba-Doo is a white Great Dane. He looks like his brother Scooby, but white instead of brown and his fur is visibly more unkempt than his mystery solving brother. He doesn't wear a collar, instead he wears a red bandana around his neck and a brown cowboy hat. 
Personality
Edit
Yabba is a stark contrast to Scooby. He is brave at any given time, not only when it is necessary. He will do anything to protect Tumbleweed county, including cross dressing. He also pronounces his words clearly, albeit with an accent.